I talk dirty on the phone. If you wanna chat and hear more of my voice, click on the NiteFlirt advertisement below and become a member! The site offers phone calls, texts, video and audio clips, etc.
I make $50 each time someone new signs up with my link, so tell your friends 🙂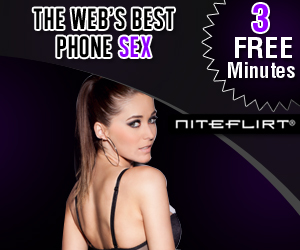 Also, I take requests! I really like recording sexy audio, and I'm always looking for new stories to record.
If you have an idea for a story, especially a religious one, send me a script and I'll record it and post it on NiteFlirt. It must follow the rules of the site (nothing illegal in the US, no blood, scat, bestiality, incest, etc.)
Once it's live, you'll be able to call in and hear it as may times as you like, I usually charge $0.99/minute for recorded listings.